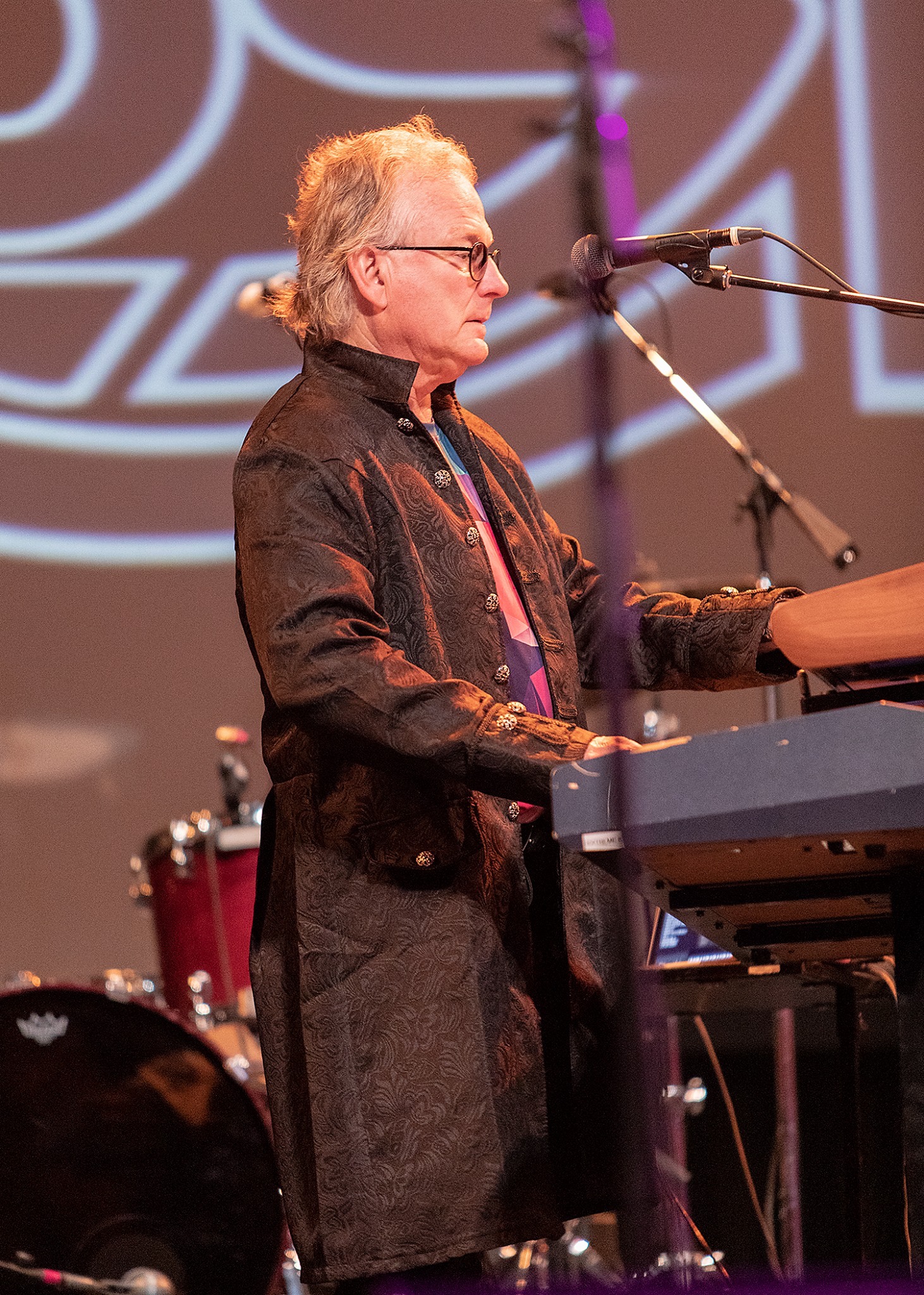 Bio
Howard Helm grew up in Toronto, Canada where he studied Piano, French horn and Voice. As a child he was a member of the Young Canadian Singers, a professional children's choir. He is a graduate of the Royal Conservatory of Music at the University of Toronto. In 1973-74 he received special student training in electronic music and synthesizers. He also studied jazz with a protégé of Oscar Peterson's. 
In the mid 70's, Howard co-founded CBS recording artists "Zon". A  Canadian rock band that became a household name in Canada. The band toured and recorded three albums through 1981. See the Zon page for more info.
In the mid 80's Howard joined "Refugee"  and recorded three albums total with the band.  During the 80's the band toured Canada and the U.S. often and was at one time on "heavy rotation" on MTV with a song from the second album, "Survival in The Western World".  Refugee was the first rock band ever to play in Zimbabwe, in Southern Africa in 1986. Much Music, the Canadian Music Channel filmed the experience for a one hour TV special that aired nationally.
In 1988 Howard was asked to join British rock legends, Ian Hunter (Mott the Hoople) and Mick Ronson (David Bowie). With Ian and Mick, he toured the world for four years, playing with many different guest artists such as Brian May, Joe Elliot, Michael Schenker, Axl Rose, Slash and Peter Criss. 
One of the performances with the band at the Dominion Theater in London, was recorded by the BBC and released as a special live CD in the UK. 
In the 90's Howard moved to the west coast of Florida. He opened his production company, THM Music Productions Inc. based out of the legendary Morrisound Studios in Tampa, FL . During his twenty-one year tenure there, he worked with hundreds of artists, including Trans-Siberian Orchestra (for which he received a Platinum record), Savatage, Iced Earth, Demons and Wizards, Kamelot, Jon Oliva, Menrva Realm, Steve Morse and The Gentry's. 
Howard co-wrote over 250 music themes for Turner Television Network's WCW Wrestling show with pro wrestling manager, Jimmy Hart, (Yes, the infamous mouth of the South).
He is also a talented string and choral arranger and has written music for film and corporate clients, Pepsi, IBM, Universal Studios,  Busch Gardens. 
In the mid 2000's Howard recorded three albums with Florida based prog rock band "Cryptic Vision" and appeared live with the band at several shows including CalProg in 2006 and opening for Asia the year after. 
He also has recorded many CD's of New Age/Meditation music which for the first time is available here on the website. 
Howard also recorded several children's albums in that time period which were promoted by the Tampa Bay Lightning Foundation with Chris Tortorella.
Howard has also worked for over 20 years as a music minister and director at various Tampa Bay churches. He released a Christian CD entitled "Standing Right By You" in 2004. Music from this CD has been used on several TV shows. 
Following the private sale of Morrisound studios , Howard closed THM Music Productions and knew it was time to move on from the South and start anew in an area that had long been a regular vacation spot.
At the present time life is full of new adventures in the Pacific Northwest and the diverse and eclectic South Sound music community. His new studio and production company is located there.   Howard continues to record, produce and write. For the lucky few.......he even still plays live occasionally.
Zon:
Astral Projector LP (Epic,1978)
Back Down to Earth LP (Epic, 1979)
I'm Worried About The Boys LP (Falcon,1980)
For You 7" single (Falcon,1980)
Michael Fury:
Affairs In Babylon LP (Passport,1984)
These Are The Good Times/White Wine and Roses 7" Single (Passport,1984)
Refugee:
Affairs In Babylon LP (Chrysalis, 1985)
Exiles In The Dark/We All Go Down To The River 7" single (Chrysalis 1985)
Exiles In The Dark 12" promo single (Chrysalis 1985)
Here We Go Again/Thunder Of Another Night 7" single (Chrysalis,1985)
Listen To Your Heart 12" promo single (Chrysalis 1985)
Sunrise In Zimbabwe 7" single 1986
Burning From The Inside Out LP (Polydor,1987)
Survival In The Western World/Power 7" single (Polydor,1987)
Lay Me Down 12" promo single (Polydor,1987)
Silhouette CD 1991 BHB Music
Tropical Breeze "The Tropics" Falzon/Helm 1994
Brian Loyd Band- Gutted CD (Guitar Nine, 1994)
Savatage- Handful of Rain CD (Bulletproof, 1994)
Kamelot-Eternity CD (Noise, 1995)
Ian Hunter/Mick Ronson Band:
BBC Live In Concert CD (Windsong, 1996)
Trans Siberian Orchestra-Christmas Eve and Other Stories- Atlantic Records 1996 (Platinum Record)
THE MUSIC OF THE WCW- 1995-2001 Hart/Helm
Robbie Steinhardt-To Cry You A Song CD (Magna Carta, 1996) Jethro Tull Tribute
Steinhardt/ Moon Project- Moonshot CD (Thoughtscape Sounds, 1999)
Millenium:
Angelfire CD (Frontiers, 1999)
Hourglass CD (Frontiers, 2000)
Iced Earth:
Burnt Offerings CD-(Century Media, 1998)
Something Wicked This Way Comes CD (Century Media -1998)
Horror Show (Century Media 2001)
The Glorious Burden (Century Media 2004)
The Blessed And The Damned (Century Media 2004)
Gettysburg- (Century Media 2005)
Roxx Gang-Mojo Gurus CD (Perris, 1998)
Seven Mary Three- Orange Ave. CD (Atlantic 1998)
Saigon Kick- Devil In The Details CD (CMC International, 1998)
Cryptic Vision:
Moments of Clarity -2003
In A World- 2006
Of Infinite Possibilites- 2012
Howard Helm: Standing Right By You (THM Music 2004)
David Philbrick- Beach Walk- 2015